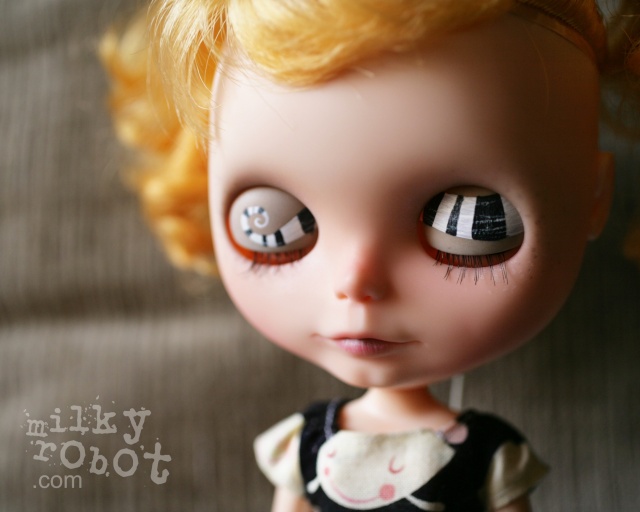 I' seen "The Exorsist" 167 times and it keeps getting better
every single time I see it
:: Boring Stuff ::
- Paypal only (NO echecks)
- No layaway, holds or trades at this time.
- First to pay is first to get!
:: Adoption Fee ::
$600 SOLD
:: Shipping ::
- FREE in the U.S.
- $30 International
Both shipping will come priority with tracking.
:: Info ::
- Base doll is a Border Spirit RBL with factory scalp and was Rit Dyed by the previous owner
(Sherri Dupree-Bemis).
- Lips and nostrils carved
- New lashes
- All new coloring done in chalk pastels (grays and natural tone lips)
- Pearl shimmer on eyeshadow, lids and little on the lips
- Light gray and white freckles around outer edges of eyes
- Blushing on cheeks and across her nose slightly
- Lids were hand painted and inspired by Beetlejuice, one of my favorite movies!
- She does not have sleep eyes but I can give them to her if you like with ribbon or string
- Boggled and gaze corrected
- Chips: (side facing) gray, dark green (front) pink, light blue/lavender
- All sealed with MSC
- Two signatures on her back plate: On the right is my own and the date, the left is Sherri Dupree-Bemis
of Eisley. Please note, the price of this custom doll is not based around the signature of Sherri, it is based
around the work that went into this doll.
:: Comes With ::
- Hand sewn ghost dress by Milky Robot (me)
- Yellow tights
:: Flaws ::
Because she is not factory made, she is not 100% perfect, as with all custom dolls. Her scalp was Rit Dyed
so her scalp edge has a tad of discoloring (more so in the back under her hair). Also, she came to me over
boggled so I removed her bottom arcs on her lids. This is not really a flaw since it does not effect anything
but make her eyes more bright but I wanted to disclose this anyways.
:: Pictures ::
To see a picture of this hair down (not in pigtails) check
here
and
here
(this is not her, but it is her scalp
in the picture).